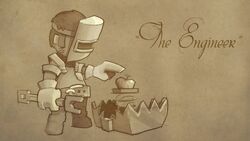 "With steam, human ingenuity, and enough pipes, anything is possible!"
The Engineer is one of the jobs in Stonehearth.
Fiendishly complex traps. Steam pumps. Black powder. In his moments of genius, this Master Craftsman boosts your town's productivity with miraculously advanced tools and weaponry. In his other moments....
Ad blocker interference detected!
Wikia is a free-to-use site that makes money from advertising. We have a modified experience for viewers using ad blockers

Wikia is not accessible if you've made further modifications. Remove the custom ad blocker rule(s) and the page will load as expected.