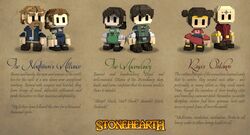 Hardy explorers and canny traders join our hardworking settlers in their quest to build, farm, and fight their way across the land. At the start of each game, choose one of the three kingdoms, each with its own unique perks.
Ad blocker interference detected!
Wikia is a free-to-use site that makes money from advertising. We have a modified experience for viewers using ad blockers

Wikia is not accessible if you've made further modifications. Remove the custom ad blocker rule(s) and the page will load as expected.